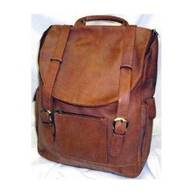 Not so great things about leather backpacks
Years ago, most backpacks were made out of leather because there was no polyester or other modern materials that are currently used in manufacturing these objects. And, although leather backpacks were practical, durable and classy, there were some major disadvantages that made them almost obsolete in our days for the ones that are interested in outdoor activities.
The most important enemy of any leather backpack is water. Even if the material is treated with all sort of substances, leather still has a tendency of shrinking when it comes in contact to water. Besides shrinking, leather becomes heavier and will make you feel uncomfortable and cold. However, these are not the biggest problems, because leather does not seem to have the ability of keeping water away from the things you carry in your backpack. So just imagine how you would feel being caught by a heavy rain in the mountain, with all your clothes soaking wet. You will have a shock seeing that the clothes from the backpack are also cold and wet. Then, there is the price. Leather backpacks will always look cool, but think of the price you have to pay for this. We strongly recommend you to use leather backpacks only in urban activities because they will be highly appreciated because of the classy looks and won't create you any discomfort.