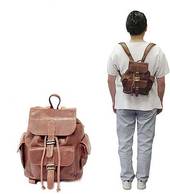 Great things about leather backpacks
When shopping for a backpack, a regular person is usually interested in its carrying capacity and especially in durability. Although high quality backpacks cost a lot of money, they do their job over the years and can be considered a great investment.
Searching for high quality, durability and style will almost definitely lead you towards purchasing a leather backpack. But what makes them so great compared to other types of backpacks? First of all, there is the style, because everyone will appreciate a nice looking leather backpack that can even look classy compared to polyester ones. Modern leather backpacks come in almost any color you wish, not only the classic brown or black. In addition, they also come in any shape and size, so whether you want to carry only your personal stuff or you also need to carry laptops, books or things like this, leather backpacks are an ideal choice. Despite the fact that leather needs proper care, you don't have to worry for the durability of your backpack. Not only they will resist over time, but they will also maintain their looks over the years if you respect the cleaning instructions. Now that you have just seen the great features of leather backpacks, what are you waiting for? Go and find the best prices and purchase your future trip companion.